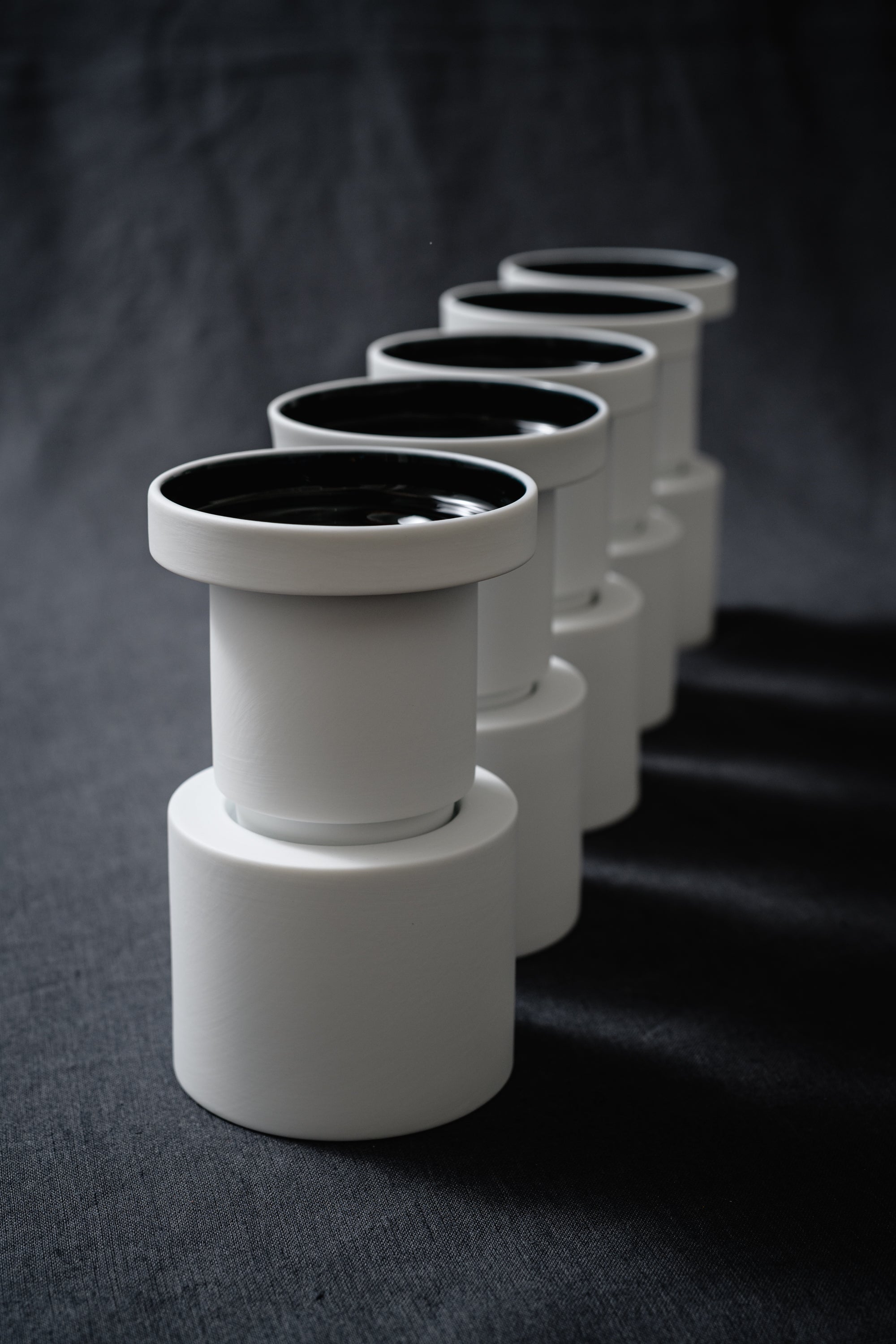 One sunny morning, as the light diffused gently on my kitchen counter, I surprised myself admiring the effect produced by the coffee machine, laid out harmoniously next to the capsules' display, the grinder and the pretty jar of coffee beans. The cups were invisible, hidden in the cupboard above. As pretty as they were, from small espresso cups to mugs, they couldn't be on a kitchen counter. With their size, shape and colour differences, they would have taken up all the space and broken the layout harmony.
How come the utensil we use most often, the one that accompanies our morning coffee or the strong espresso after lunch, is put away in a cupboard? The colonnade cups were thus born, with the desire to integrate this everyday object into a contemporary interior while being practical and compact.
I initially decided to make a two-cups set: a small cup to accommodate espressos and macchiatos, and a large one for lungos, cappuccinos and teas. I designed very geometric, cylindrical cups, intending to nest them one on top of the other for a more harmonious display. I was also inspired by my previous sculptures' lines, from my AMN collection.
I then sent the first drawings to Limoges, which were quickly validated with a reservation from the technical director on the cups' cylindrical shape. Indeed, if cylindrical porcelain cups are rare, it is because it increases the risk of deformation during cooking. It is indeed difficult to obtain a perfectly round circumference after cooking and generally recommended to tilt the cup's sides. I still decided to go ahead with prototyping, which ended up being successful! I have to admit: I played, I won, but with porcelain that's not always the case.
The colour tests were also quick. Since I wanted uncluttered and straightforward products, white was the first choice, and then came the idea of ​​the black enamel interior. I started with matte black enamel first but found the result to be dull and slightly lacking elegance, so I switched to shiny black enamel.
I then started using the prototypes daily to test them. One day, after lunch, while I was about to drink my coffee, I took a little chocolate out of my cupboard. And there, it struck me. How did I not think of it before? Whether it's a chocolate, a dried fruit or a cookie, where to put it while you drink your coffee? That's why I completed this duo of cups with a small saucer that also fits into it. Eventually, the initial will to rethink the cups was transformed into rethinking the whole coffee tasting experience.
Finally, after a few weeks of use by different people, I decided to develop a model with a more artisanal look. After some tests, we ended up choosing the blue, which I personally really liked. After several texture tests, we decided to hand-stamp the exterior with a white enamel that melts into the blue. Because the duo looked heavier than the other colours, I decided to remove the saucer.
I hope you will enjoy displaying your cups proudly on your kitchen counter or in your living room.
Discover the stackable cups in white, black and white or blue versions.